Affiliate Marketing is the one of the best way to monetize your website content. In fact Affiliate Marketing could become the major source of your online income. I have seen many bloggers who make much more money just by using affiliate marketing. Much more money than Google AdSense or other CPC programs. Professional bloggers already know about this earning source but if you are beginner in blogging then you have to understand first "What is affiliate marketing?".
Here in this article, I will share the basics of affiliate marketing and all the details you need to know in order to understand how affiliate marketing works.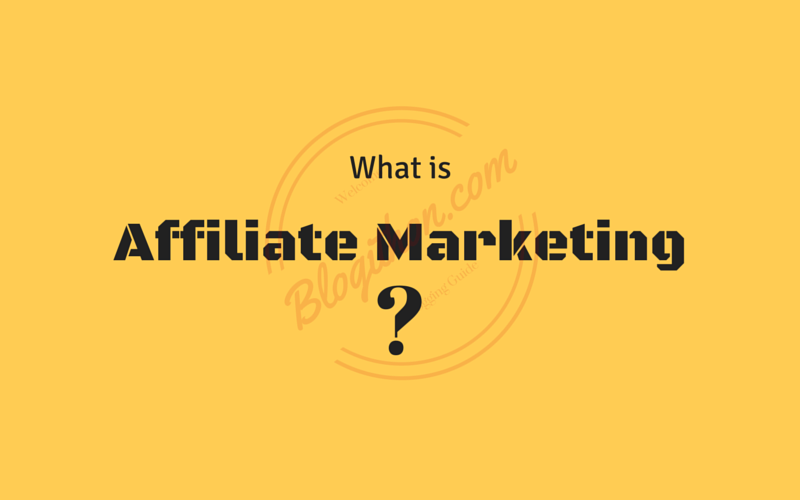 What is affiliate marketing and how does it work?
In simple words affiliate marketing is a way of marketing in which you, as a publisher, are paid when you refer someone to any online product or service and that person buys it. In this way when anyone follows a link (affiliate marketing link) from your blog or site and buy that product or service, you earn commission.
These companies give affiliate links that contains your tracking ID. When any purchase is done using that affiliate link with your tracking ID, you earn commission. You get this tracking ID when you sign up with that affiliate marketing service.
Using affiliate marketing in correct manner would definitely increase your earning, but if you promote wrong product or service on your blog then that could hurt your blog's health and you would end up with losing many of your readers. For example, if you run a blog that talks about books and novels and if you add affiliate links for vegetable seeds then that will create wrong impact.
You can use affiliate marketing with your current monetization plan side by side. You can use affiliate marketing side by side with google adsense.
Must Read: How to get Google Adsense approval for new blog
Affiliate Marketing Earnings
While affiliate marketing can be incredibly lucrative but it's success also depends on following factors:
Your website / Blog's Traffic
Quality of product
Trust of your readers on your blog
If you have good amount of traffic then affiliate marketing would give good results. High traffic means high click rate on your affiliate links and orders through it. If you have low traffic then it will not give good results as there will be very few click and even fewer orders. So if you have low traffic on your blog then increase your blog's traffic.
Always refer good quality product on your blog. Wrong or poor quality products would hurt your reader base and they will unsubscribe to your blog. So always refer a product which you trust.
How to get started with affiliate marketing?
Alright that was all theory on what is affiliate marketing and how to earn. Now you will probably thinking on how to start with affiliated marketing. It's very simple. Just sign up for any affiliate program. Not all companies offer affiliate programs. You can visit the websites of those companies and sign up. Choose affiliate program according to your niche. Companies like amazon, flipkart and dreamhost offer affiliate marketing.
For beginners, first decide which product you want to sell then visit the website that sell that product or do google search with that product plus "affiliate marketing". Amazon have almost every retail product so that would be a better place for starting affiliate marketing. Sign up there. Then go to that products link and copy the affiliate link provided there. Paste that link on your blog. you're done. Now wait for someone to click and buy that product. you can easily monitor the sales through your links by visiting your amazon affiliate account.
I believe this guide will help you in your affiliate marketing journey. Subscribe to our newsletter so that you can get many more similar tips and guides.